Description
Formats: AAX, VST3, AU.
You can try Stream pre-authorization.
The following features are locked out until the plugin is authorized.
Auto Record and Overdub

Gaussian and Noise Envelopes

Loading and Saving of Presets

Limited to 2 Voices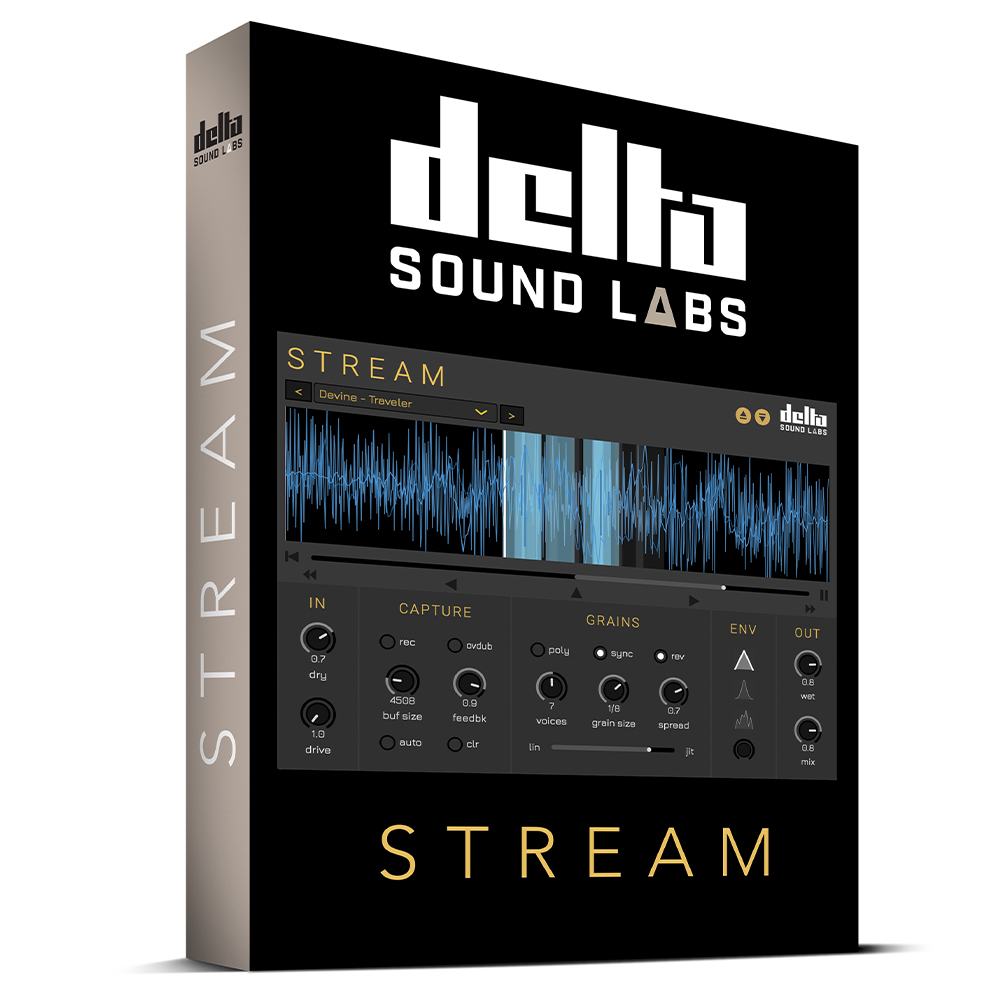 Looking to update Stream 1.3 or to try out the plugin before purchase? Download our latest macOS and Windows installers.
Stream from Delta Sound Labs is a granular sampler audio effects plug-in for sound design, intricate delays and live performance. Its clean sound separates it from typical spectral or frequency granulators and it's a great way to layer and widen your audio source. Stream also boasts very low latency making it ideal for live performance.

Key Features
Tempo Sync – synchronize the grains with the tempo of your host
Low latency – ideal for live performance
Auto Record Mode: a new record mode that allows a user to determine the buffer size by toggling the Record button
Capture & Overdub – capture an audio excerpt, manipulate the audio, build harmonies and layer disparate audio sources
Time stretching/scrubbing
Up to 16 granular voices
Monophonic MIDI Mode: re-pitch all granular voices at the same pitch and grain length (great for creating pedal points)
Polyphonic MIDI Mode: granular voice creation and re-pitching just like a regular VSTi
Sample Drag-and-Drop: drag, drop and use any .WAV .AIFF or MP3 with Stream
Optimized Sample Interpolation: smooth playback through optimized audio sample smoothing
Dedicated Dry and Wet knobs to balance dry and wet audio signals relative to the Mix control
System Requirements
macOS:
Recommended: Mojave or Catalina (10.14 or 10.15)
Minimum: High Sierra 10.13
Windows:
Minimum and Recommended: Windows 10
Support
>> Stream User Manual – PDF Download.
>> Watch Stream Tutorial Videos.
>> Questions about Stream? Consult our FAQ.